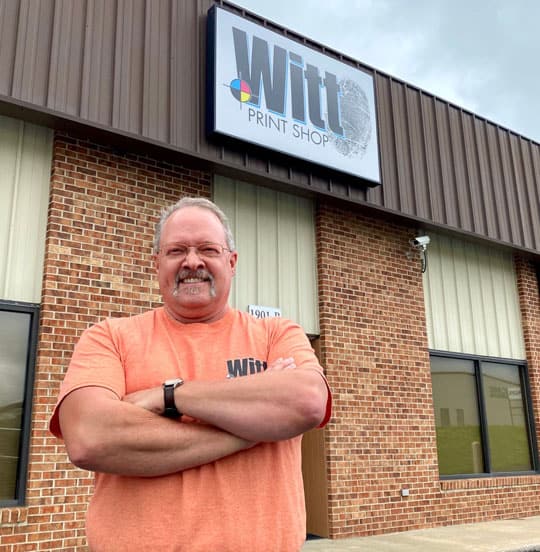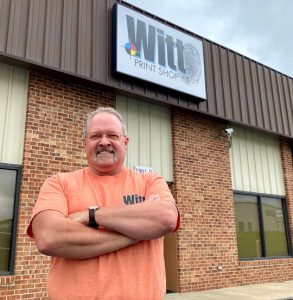 If you ask Brian Kirmse what time it is, he'll be the first to tell you it's time to "Get Witt it!" Yes, it's an inside joke at Witt Print Shop, located at 1901 Vandiver Drive just three doors down from the Food Bank in Columbia, Missouri.
"We moved out of our downtown location on 8th Street back in January of 2017 and totally revamped our marketing campaign with the 'Get WITT It!' tag line along with a jingle in our radio ads. It's been quite the ride ever since! We've had a lot of fun with being 'Witty' in our campaigns… you know, Half-Witt, Nit-Witt, Dim-Witt… but it's all in fun and we love to have fun while we work!," Kirmse said.
Brian, a 21-year resident of Hartsburg, purchased the business with his cousin back in 2000 from his Uncle Harold Nichols, but became the sole owner in 2016. Thomas Witt opened Witt Print Shop back in 1926 in downtown Columbia and sold it to Mr. Nichols in 1967. It's been in the family ever since.
"Harold kept the name, Witt Print Shop, because of the reputation that Mr. Witt gave the business," Kirmse said. "I also decided to keep the name because it didn't make sense to change something that worked for so long. Mr. Witt had great quality printing, turn times, integrity, solid business relationships, etc… and I wanted to continue that tradition that he and Harold built up for so long. It's important to me."
Mr. Kirmse also owned a home-based photography business, You've Been Shot!, from 2007 to 2019 but chose to close one. According to Kirmse, both were very successful businesses and keeping him too busy to continue with the exceptional customer service he provided.
"I needed sleep! I needed to pay attention to my health and to the time I was spending with my family. With my kids no longer in high school, the photo business was the easiest option to let go of," he said. "I loved being busy and multi-tasking, but my heart was more into the print shop and the people I worked with day-to-day. Besides, it's easier to head back to the warehouse and sleep on a few boxes of paper…not so easy on the sidelines of a football game!" Kirmse joked.
With the success of the print shop, Kirmse stays focused on customer service and keeping up with print technology. For such a small crew of 5 people, he touts that they move as much printed paper through the shop that much larger shops do on a daily basis. "I'm so proud of our crew and what they accomplish each day. Everyone knows what they're doing, has a ton of experience with each position and is cross-trained to help wherever they are needed. The great quality and quick turn times do nothing but help our customer relations," Kirmse said.
Although Witt Print Shop is a commercial printer that does business with other businesses, they also accept jobs from individuals if it makes sense for the customer. "Our niche is commercial work of quantities from 100 to 10,000 on average, but I won't turn a job down that doesn't fit us if we can do it cost-effectively and meet the deadline required by the client. If it doesn't fit us, I know exactly where to send the customer to get it done, and most people appreciate that honesty," Kirmse explained.
So, if you catch yourself in need of printing, keep Witt Print Shop in mind. It's a small, family-owned business and member of the Ashland Chamber of Commerce that has deep roots in Mid-Missouri and loves taking care of their customers. Listen to the radio and you just might find yourself singing their jingle, "Witt Print Shop, it's time to Get WITT It! So much more than ink and paper."
Address: 1901 Vandiver Dr., Suite B, Columbia, Missouri 65203
Phone: 573-443-7227
Email: wittprintshop@socket.net
Website: wittprintshop.com
Contact: Brian Kirmse, Owner