When:
10/07/2021 @ 7:15 PM
2021-10-07T19:15:00-05:00
2021-10-07T19:30:00-05:00
Where:
Southern Boone Area YMCA Turf Room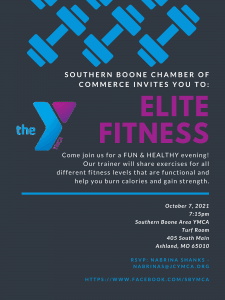 Chamber on Tap: Elite Fitness
Thursday, October 7th at 7:15pm
Located at the Southern Boone Area YMCA
in the Turf Room
Enjoy and fun and healthy evening!  Our trainer will share exercises for all different fitness levels that are functional and help you burn calories and gain strength.  Chamber on Tap is a quarterly social event hosted by the Southern Boone Chamber of Commerce.
RSVP:  nabrinas@jcymca.org